About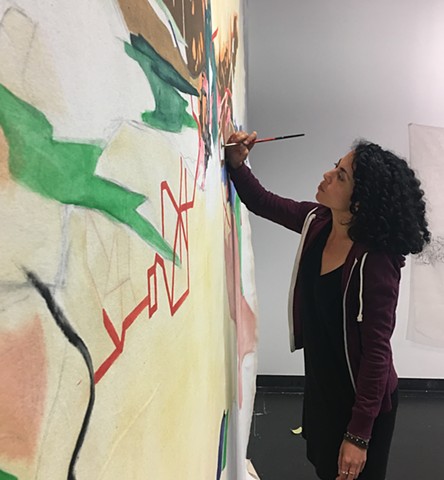 I create textured figurative cut-outs and installations that always begin with the female body. It then gets abstracted into a layered body scape through tearing, cutting, and re-shaping. Flesh becomes a landscape embedded with netted map lines, camouflage, natural patterns and, sometimes, tiny military figures. The female body is the site of violence and loss and the fertile ground for transforming such violence.
I also integrate Arabic and English writings. Through ongoing, interactive research with women in my communities, I have built a small archive of their writings to source from. In my most recent installations, I remix their writings with my own layered words and phrases. The repeated pressure of my hand, as I write, is an insistence on presence of stories that risk being erased.
As a U.S. born Egyptian woman, I feel the dangers of globally perpetuated authoritarianism and how it distorts our relationships to ourselves and others. I draw from my cross-cultural experiences and social research to make my work. For example, to make The Khayamiya Monument (2016) I integrated personal writings collected from female U.S. veterans who had fought in Iraq with writings from Arab African women's im/migrant and refugee communities to challenge the idea that military occupation could bring freedom to anyone.
My works become a place for me to channel the frustrations of invisibility and lack of acknowledgement of the violence that surrounds us, in a very polarized post-9/11 world. What does embodied transformation and strength, in the context of authoritarianism, look like? How do I channel my imagination to make a free space for myself in these multiple histories that shape me?
Photo credit: Shaheen Nazerali